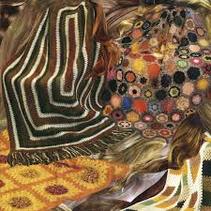 -By Zach Bauer, New Music Department

Before I first listened to Ty Segall's new album, I didn't know what to expect. I have never listened to Ty Segall before, though I wish I had after hearing his latest album, "Sleeper". Ty Segall is an American musician and songwriter who sings, drums, and plays guitar. Ty grew up in California and has been influenced by many different musicians. He is a member of many bands, including Fuzz and the Traditional Fools. "Sleeper" was produced as part of his solo career. As the album begins, I can immediately feel a sense of relaxation . This feeling continues to deepen as the album progresses. The album, "Sleeper", is well titled because it amplifies the relaxing, acoustic tones that define the album.

A lot of times what makes or breaks an album is the quality of the the singer's voice. My first impression of Ty Segall's voice was very positive and has grown on me more as I continue to listen to him. In my opinion, his voice reminds me of a mix of Jeff Tweedy, David Bowie, and John Lennon. While some may have their suspicions towards such a combination, Segall manages to pull it off in a way I've never heard before. His voice gives the album character and originality.

In an interview with NPR, Ty Segall says that he wrote the album about a very difficult point in his life. After his father died from a long battle of cancer, Ty stopped talking with his mother. He said his mother did bad things that could not be mentioned. The album "Sleeper" is a collection of feelings that came out of this period of what he calls a "weird, intense time".

The first song "Sleeper" sets a strong tone for the rest of the album. Its pounding acoustic vibes are thrilling, but at the same time invites an effortless energy.The violin complements the tone of the piece in perfect harmony with the warmth of the bass and acoustic guitar. Ty Segall carries this warm sound through the whole album while seamlessly adding elements of Classic Rock. The song "She Don't Care", Combines elements of a classic Zepplin song with a dash of the Rolling Stones emotion. Even in the sixth song, "Come Outside", there are elements of Buffalo Springfield and The Byrds. By blending together a classic rock sound with Ty Segall's acoustic, spacey vibe, Sleeper feels whole; it leaves the listener thoroughly satisfied.

Ty Segall is shaping a new generation of music that is both classically structured and experimentally promising. Sleeper meshes a variety of vibes, rocks the acoustic guitar, and while not a traditional Segall album, fulfills Ty's standard of awesomeness. While all the songs at first sound very similar, the more I listen to them the more unique each song becomes. Ty Segall's brilliant act of combining multiple decades (from the 70's, 90's, and now) makes for an album that is more than just aesthetically pleasing, but the start of a new generation of music.