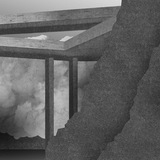 By Paul Tisch, New Music Department
Rating 8 of 10

After playing in Crystal Stilts, Dum Dum Girls, and Vivian Girls since the early 2000s, Frankie Rose ventured on her own path. In 2010 she released an eponymous album under the name "Frankie Rose and the Outs", followed by a 2012 release, Interstellar under her own name. She has released her second album, Herein Wild, an exciting follow-up to her solo debut. She has refined her sound, and explores new territory with different instrumentation and song structures. Interstellar had more focus on reverb and simpler song structures, but maintained the necessary elements to have a powerful impact on the listener. Herein Wild utilizes thick, lush arrangements and unconventional song structures. In this case, more is better (something that is often not true). The textures are never extraneous or overwhelming, but create a surreal atmosphere for the listener to fall into. Some songs, like "The Depths" and "Cliffs As High" maintain the more basic instrumental arrangements of Interstellar, which has a haunting effect and contrasts nicely with the rest of the album.

Despite the dreaminess of this release, there are still steady grooves from the rhythm section that keep the music enticing and forward-moving. A highlight of the album is "Minor Times" which showcases Frankie Rose's ability to create simple, yet powerful melodies. Her creamy voice glides over a catchy beat, one of the best qualities unique to Frankie Rose.

The structures of Herein Wild are patient, and play on a section for a while rather than jumping from idea to idea, like some songs on Interstellar did. Along with structure, the instrumental arrangements of this album are thicker and utilize strings ("Sorrow", "Requiem") and piano ("Street of Dreams"), along with the same spacey guitars and synths from Interstellar. The patience of Herein Wild allows the listener to get lost in Frankie Rose's luscious mantras and the dreamy textures she creates.