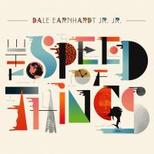 By Gracie Sands, New Music Department
Rating 8.5 of 10

When asked about the origin of their name in an interview with NASCAR.com, band member Daniel Zott stated that, "The name for us was just a way to identify our crazy new project that had no limitations. People have no idea how we are going to sound, and so it gives them a reason to actually take some time to listen to the music."

Dale Earnhardt Jr. Jr. has never really been a band to take themselves too seriously. They do hope that people will give them a chance before making judgments about the sound they produce. This comes through in their newest album The Speed of Things by applying their laid-back feel and sense of humor to the the lively indie-pop sound they create. The indie pop-duo from Detroit, Michigan comprised of Daniel Zott and Joshua Epstein released the Album The Speed of Things just this year in attempt to stay consistent with the overall sound of the band heard on previous albums. In a press release the band stated that, "It's a record that means a great deal to us, as it focuses on the size and speed of the world today." This stands as an attempt to convey a message beyond what is clearly stated in the lyrics. In addition to keeping up their light, pop-y sound, they also hoped to expand and highlight their musical strengths on the album. The same catchy lyrics and melodies decorated with spacy keyboard licks are evident in the background of many tracks, but this album manages to capture a fuller and more meaningful sound.

When first hearing this album it seems to be very cluttered and disconnected, but a look beneath the surface reveals that Zott and Epstein have cleverly crafted this album into a close-knit collection of songs. The album starts off with a bang with the refreshing track "Beautiful Dream," and gains momentum with "Run," perhaps one of the most thought provoking tracks on the album. The last track "War Zone" is unlike others on the album, showing the duo is possibly headed in another direction for the future. This album stands as reinforcement for the sound they are capable of producing and proves that it is completely their own. Dale Earnhardt Jr. Jr. managed to possess a reason and a purpose for writing each song the way they did, taking the album that step further. Overall The Speed of Things was everything I hoped it would be and more. It's the same sound I have known and loved, and takes it that step further to advance the duo in their future as a band.