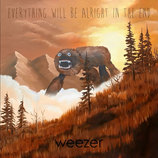 By Chad Spalding, New Music Department
Rating: 7.5/10

Ever since their intense rock albums, Pinkerton and Blue Album, Weezer has tried to move into more of the indie scene with their music. Ultimately, this was a pretty unsuccessful attempt. All of the band's most recent albums have been slow-paced and boring. With their newest release, Everything Will Be Alright In The End (EWBAITE), Weezer realized their past mistakes and went back to the classic style of garage rock. EWBAITE, which released September 30, is a fast-paced, thrilling album that brings similar feelings to Pinkerton and Blue.

Weezer starts out EWBAITE with a mother whispering to her child, "Go back to sleep honey. Everything will be alright in the end," bracing listeners for the album. This is followed by Back to the Shack with the shack representing the old style of music: overpowering guitars, booming drums, and catchy lyrics. These aspects are a big part of the whole album. Jump to the next song, Eulogy for a Rock Band. This is probably Weezer's best song since the top hit off of Blue: Say It Ain't So. This song is really saying farewell to the recent Weezer and saying welcome back to the old Weezer. The guitar riffs are great and the chorus is incredibly catchy. EWBAITE slows down later in the album with Da Vinci and Go Away, but jumps back to the fast-pace to close everything out with Foolish Father. This last song leaves the listeners with some closure as Weezer apologizes for their recent mistakes by saying, "Forgive your foolish father, he did the best that he could."

Everything Will Be Alright In The End is basically an apology letter to all Weezer's loyal fans who stuck with the band through thick and thin. This is a return to garage/alternative rock for Weezer, and it could possibly be the rebirth of this kind of music. Hopefully Weezer sticks to this genre in future releases, because this band really can rock.