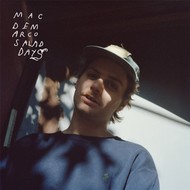 By Gracie Sands, New Music Department
Rating: 9/10

Mac Demarco's second full length studio album Salad Days perfectly captures the slacker, goofy attitude of the 24-year-old Canadian rocker. The album is a compilation of short and sweet dreamy tracks filled with whimsical lyrics and melodic riffs that create a spacey, laid back vibe. Demarco is not one to take himself too seriously, clearly displayed by his presence on stage. I would argue that Salad days was one of the greatest releases of this year because there is not a boring track on the entire record. After the release of his first studio album 2, I had very high standards for his next release. Tracks such as "Freaking out the Neighborhood" and "Cooking up Something Good" give listeners a taste of the playful feel-good style that Demarco never fails to produce.

The title track of the album, Salad Days shows off the talent Demarco has for creating short. smart tracks with catchy melodies that constantly seem to be lingering in the back of your head. The two singles off of the album, "Passing out Pieces" and "Brother" are a little more ominous than the rest, creating a variance in sound in the album. My personal favorite track "Let Her Go," is the perfect example of the poppy upbeat sound that fans expect from Demarco. He has a way of writing a love song without directly coming out and saying it. No matter what Demarco produces, he will always be labeled as a slacker. That's what so many people love about his music and the vibe that he never fails to give off.

I will never get tired of this album. Each time I listen I notice different details about the tracks that set each one apart from the others. They each have their own flavor, whether it is in the lyrics, instrumentation, or the raw vocals of Demarco. Given the outstanding quality of the album overall, I would rate Salad Days a 9 out of 10 because it stays true to the sound that everyone knows and loves, while still showing a side of Demarco that no one has ever seen before. We can only wait and see what Mac has in store for his next album because Salad Days has raised the bar for who he is as a musician and the quality of music that he is capable of producing.