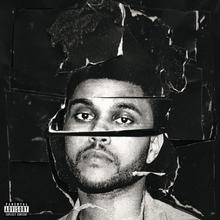 Beauty Behind the Madness - The Weeknd

Reviewed by Julia Rytel, New Music Department

8.5/10

Abel Tesfaye, more commonly known as The Weeknd, has made a career by singing verses on rather unsuitable topics with his sweet voice. In his recent album, Beauty Behind the Madness, he has introduced himself to a new audience by producing catchier songs and collabing with well-known artists such as Ed Sheeran and Lana Del Ray. With the momentum from his previous singles already propelling him forward, this album brings back everything we knew about the Weeknd prior to his rise of increased listeners. The dark and mysterious production is intertwined with coiling melodies that carry a constant stream of vulgar persona that is intrinsic to Tesfaye's sound.

Not including his three mixtapes from 2011, Beauty Behind the Madness is the Weeknd's second studio album supported by two singles (The Hills and Can't Feel My Face), including one promotional one (Often). At first listen, I was expecting the album's content to be a similar representation of what was being played on the radio. However, by listening to each track, I could tell that Tesfaye is in the midst of trying to become a pop figure with something to say, quite literally at times. Unlike his first few EPs that were a profound form of new and anxious anti-soul music, this album provides an exciting new outlook for the evidently troubled Tesfaye.

The album's first track, Real Life, provides a dramatic and epic sound right from the start. With nothing but churning violins in the midst of many layers of sound, it brought upon an image of the time and point in a movie where the world begins to fall apart. A piano bring us into the void left after the striking opening track. The following track, Losers, sounds very materialistic with the rhythms and percussion that may not be heard as frequently throughout the rest of the album. The diversity in sound, pace, and shifting moods gives a well rounded edge to the cohesive project that I had expected the Weeknd to reach with the level of quality that is so consistent.

The Weeknd is producing R&B right now, and this new album is the body of work that backs up this claim. It is clear in this album that Tesfaye has expanded his influences and acuminated his songwriting skills while moving forward and progressing as an artist without losing the core qualities that granted him his success with the first time around. Beauty Behind the Madness has paved the way to rediscover what made The Weeknd so great to begin with and it's richer and smarter than ever.