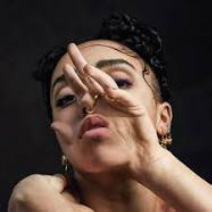 M3LL155X - FKA twigs
Reviewed by Grace Solem, New Music Department
8.5/10
A product of the British industry, FKA twigs, repeatedly offers a new dynamic and sounds with her music. Due to her role as a leader in the experimental genre, and her ability to combine pop, hip-hop, R&B, alternative, and electronic genres flawlessly, it is difficult to compare her sounds to one or two specific artists. Recently releasing her fourth studio release,
M3LL155X
(pronounced
Melissa
), she continues to impress by adding creative sounds to her already experiential repertoire. The entire extended play carries a common tone that combines urban clatter with whispery tones.
As her third extended release,
M3LL155X
is FKA twigs' most matured work. At first listen, some of the songs are borderline uncomfortable because of the inconsistent geometric sound. However, listening to the 18 minute long EP a second time clarifies that Twigs' intention was for the listener to feel the discomfort that she has experienced. Unlike previous releases that had a light and airy vibe, this EP's tone is heavy, and yet the sound feels less forced. Although the tracks can be enjoyed individually, listening to the release from start to finish is beneficial in immersing the listener.
The EP's first track "Figure 8" sets the tone for the rest of the release. The song slowly transitions from deep bass blows to a series of fast whispers that is both intense and chilling. Although the album is consistently impressive, the true treasure of the album is "Glass and Patron". Beautifully mastered, the song successfully blends influences of R&B and rugged electronic effects.
Twigs uses not only her voice as dynamic, both through talent and automated effects, but successfully combines it with the background noises. I use the word noise due to the lack of standard instruments, such as guitars or pianos. Even computer generated beats are scarce in the course of the album. Rather, Twigs opts to utilizes everyday noises, including car alarms, and crashing metal.
M3LL155X
is a piece of art that goes deeper than music because FKA twigs is able to deliver a listening experience different than other.