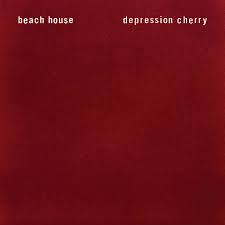 Depression Cherry - Beach House

Reviewed by Chad Spalding, New Music Department

8.0/10

French duo Beach House have strung together an incredible series of dream pop albums with their whimsical guitars and soft vocals. Starting with 2006's self-titled up to 2012's fantastic Bloom, Beach House has become one of the biggest names in indie pop. With their most recent release, Depression Cherry, Beach House continues this style, but adds to it with an obvious shoegaze influence. The album's lead single, Sparks, sounds like it could come straight off My Bloody Valentine's Loveless, featuring overpowering guitar pedals and soft, crunched vocals. Sparks is definitely one of the highest points on Cherry, taking a spot as one of the best tracks of 2015 to this point. Much of the rest of the album does not quite live up to these expectations, but it does not disappoint.

Cherry's first song, Levitation, gives a great feel for the album with dreamy vocals and soft, orchestral instruments. Lead singer and keyboardist Victoria Legrand braces listeners for a new sound on the album with, "There's a place I want to take you/When the unknown will surround you." Levitation is a pretty song, but like a handful of other tracks on Cherry, it is a little bit too slow for Beach House's best style. Another prime example of this is on the fifth track, 10:37. It is not a bad song at all, just boring compared to previous tracks off of Bloom and Teen Dream. It features a consistent drum beat and the occasional synth note, but there is not much more to it.

This is not to say Cherry is all like this. Space Song is one of my favorite Beach House tracks to date. "Tender is the night, for a broken heart/Who will dry your eyes, when it falls apart?" sings Legrand over a stunning instrumental. With a beautiful, reverb guitar lick over a pulsating synth, it molds together as one of the best moments on Cherry. The next song, Beyond Love, is equally beautiful. Like Sparks, this track has a shoegazey vibe. The guitar is fuzzed, and the vocals are very mellow. All of this makes the second, third, and fourth tracks on Cherry, Sparks/Space Song/Beyond Love, an incredibly memorable series.

With their fifth full-length LP, Beach House's newfound shoegaze influence is an interesting turn for the dream-pop band. Although this style does not fail, Beach House does not accomplish this style to the best of their ability. Aside from this, the tracks that work are beautiful. Beach House has the capability to use the shoegaze style to make something near-perfect, demonstrated by Sparks and Beyond Love. If they put in this quality of work throughout the entirety of a future project, Beach House has the capability of putting together a My Bloody Valentine level album.