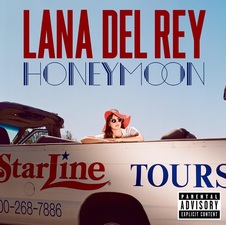 Honeymoon - Lana Del Rey

Reviewed by Grace Solem, New Music Department

4.5/10

Since her first large album debut, Born to Die, Lana Del Rey has created a self image that has outgrown her talent. With the help of her fans, Del Rey has likened herself to a 1950s Hollywood queen enough that the eerie vintage vibe is directly associated with her name. However, over the course of the last four years following her original release, Del Rey has developed her icon rather than her artistry. While an extremely talented individual, she has dug herself so deep into her character that it has become more mature than her art itself. Lana Del Rey's latest release, Honeymoon, is no different than her previous albums.

Although Lana Del Rey is extremely talented, her lack of variety is beginning to catch up to her. The album consists of an hour and half of soft, echoey slow songs about drugs, sex, and California. Although there is something to be said about an artist having a lyrical niche, experimenting with new topics should not be overlooked. What makes this album so disappointing is its predictability, it captures a slower, darker sound that is relatively close to her last two albums. However, this modest deviation towards cloudier sound is easily anticipated by listening to the identical shift between her first and second album as well.

Listening to this album without comparison to previous works it is fairly impressive. The inky sound paired with Lana's raspy yet pillowy voice is a rare listening experience. Majority of the music shows a darker side of Del Rey's dream pop genre, including the song "Get High By the Beach" which includes her ever present motifs of drugs and romance but in a fashion slower than what her fans are used to. Although the hour and half long album becomes a bit repetitive towards the end, it is complimented by a chilling spoken word interlude, that properly highlights Del Rey's lyrical ability.

Her dreamy Old Hollywood vibe should be commended for its successful execution. The idea of the character is brilliant in theory and extremely effective in execution, something that is apparent in her large fanbase. Not only that but Lana Del Rey possesses an immensely unique voice, but she is limiting her talent. Her potential is what makes her newest album so disappointing. However, one artist can only produce so many similar eerie yet romantic songs before they are no longer living up to their originality.