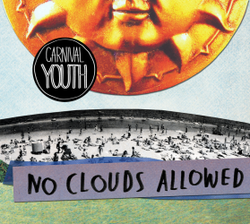 No Clouds Allowed - Carnival Youth

Reviewed by Coady Raab, New Music Director

Rating: 7/10

Straight out of Latvia comes the new Indie Rock band Carnival Youth. A new and youthful group, Carnival Youth has been together since 2011, playing small shows here and there. The band is now breaking out of the confines of Europe and bringing their music to the world with their debut album, No Clouds Allowed.

No Clouds Allowed starts pulling you in with the start of its second track, "Octopus". The song brings a sense of familiarity, making you feel like you have somehow already heard these guys play before. Mellow tones are mixed with beating drums in order to form a sound like no other.

"Moonboy" follows after, attacking you with heavy guitar riffs from the beginning. The lyrics are sung with tones of sadness and despair. With the mix of the vocals and instrumental parts, the track communicates pure emotion. A Moonboy looking for a friend to confide in, the story goes.

The album continues on with the same feel until the song "Brown Eyes and All the Rest". It starts of with a nice ambient setting, and then rolls into an eccentric chorus with edgy beats playing under. While the lyrics still speak of struggles in love, the overall sound of the track is a very nice break in the tone of the album.

No Clouds Allowed shows off its principal track next, "Traffic Lights". It continues the upbeat energy and happy mood of songs from before. The sound of this track exemplifies what Carnival Youth is all about. The quartet all singing together, with their instruments creating a beautiful melody, this song exemplifies their Indie sound.

Carnival Youth mixes their Latvian background with their album to create an excellent piece of art. No Clouds Allowed is the first album released by this band, but it is certain that they are here to stay. Carnival Youth is still young and with their bright and colorful energy they will surely come out with even better albums in the future.