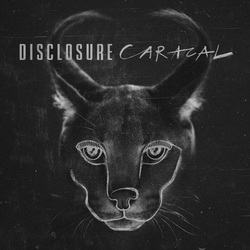 Caracal - Disclosure

Reviewed by Sean Maloney, New Music Department

Rating: 6/10

The Lawrence brothers (Guy and Howard) more commonly known as Disclosure , have returned to the scene after their tour had concluded for their 2013 smash hit album Settle. What most fans had feared would happen with Disclosure's second album had unfortunately come true; It's a pop album.

Coming right out of the gates with the second track on the album, the house duo does not hesitate in redoing their original success card. That sort of "get rich quick" tactic being, the extremely seductive voice of Sam Smith. For those who might have forgot the song "Latch", Disclosure returns to working with Sam Smith to utilize his vocals for yet another song "Omen." This track is basically another one of Disclosure's beats being overshadowed by Smith's voice.

Caracal, falling under the genre of "UK Garage" makes sense, considering that the album doesn't really show one distinct path. Multiple tracks on the album piggy-back on the guest vocals of three of the biggest names in music right now, Lorde, The Weeknd, and of course Sam Smith.

Disclosure's first album, Settle, was more focused on the beats and the actual music produced by the brothers. Disclosure identifies as House, or Deep House, however Caracal strays far from that. I'm not saying that there aren't tracks that do have incredibly well produced beats, it is just disappointing to see two incredibly gifted producers selling out in order to top the charts.

Regardless of the integrity of the album, there are a few very catchy tracks. "Omen", "Magnets" and "Holding on" are all looking to top the charts. Tracks featured on Caracal are more than likely going to be heard at parties across the world for quite some time, and a handful will more than likely get thoroughly worn out on the airwaves as time moves forward.