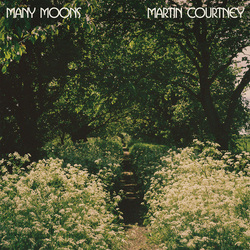 Many Moons - Martin Courtney

Rating: 6/10

Reviewed by Coady Raab, New Music Director

Branching out from his band, Real Estate, Martin Courtney has taken released a solo album entitled Many Moons. While Real Estate is already known for having a more laid-back sense in some of their songs, Courtney's solo work takes that sound and stretches it to a whole album's worth. Courtney is continuing the toning down the Indie rock vibes even more, giving this more of a psychedelic rock feel.

"Awake", the first track of the album sounds as if it's straight out of Mac Demarco's Salad Days. It's a very mellow tune, something that would be great for rocking in a hammock on a beach watching the waves roll in. As nice as it is, "Awake" just passes you by, giving you no recollection of you actually having listened to it. It's a great track, but just fails to strike that chord in your heart.

Many other songs in the album follow the same suit, such as "Foto" and "Before We Begin". Musically speaking, they are very well built with every sound flowing nicely into the next. These songs, as well as a couple other on the album just feel more like filler rather than actual music.

Many Moons' standout track finds itself tucked in at the end of the album. Originally released as a single, "Airport Bar" is arguably the best track of Courtney's solo career so far. In this song there seems to be so much more energy than the previous tracks. Courtney still follows his laid-back agenda, but in "Airport Bar" you can even feel that this is a song he truly cares about. His voice no longer blends into the background instruments as it has done in so many other parts of the album.

Many Moons is the first we have seen from the solo Martin Courtney. While the album holds up, it just sounds like another Real Estate album, making us wonder why Courtney is even experimenting with solo work in the first place. Martin Courtney is a good musician and while I hope he continues to release more solo work in order to find his true sound, Many Moons just doesn't cut it.