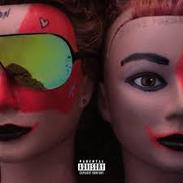 I Love Makonnen 2 - iLoveMakonnen

Reviewed by Chad Spalding, New Music Department


Rating: 7.5/10

Last year, we witnessed a true Cinderella story of hip-hop. Atlanta rapper Makonnen Sheran, FKA iLoveMakonnen, came into the rap scene with a brand new sound. His chart-topping single Tuesday grabbed the attention of Toronto emcee Drake, who jumped onto the track and ended up signing Makonnen to OVO Sound. This gave him the opportunity to make his debut self-titled extended play. This project featured a very ambitious sound for a major label debut. Blending poppy choruses with clever and catchy verses over Sonny Digital and Metro Boomin beats, Makonnen jumped into the top charts. However, pioneering this new sound brought Makonnen very mixed feelings toward his debut. His limited vocal skills and repetitive, awkward choruses sparked criticism. However, fans of his music believe these flaws are all a part of Makonnen's charm.

In the sequel to last years self-titled, Makonnen totally ignores his criticism. He comes in even more beautifully awkward than before. I Love Makonnen 2 starts with Forever, on which Makonnen provides a poppy chorus contrasting a trap sub-bass. As stated by Makonnen, he made this track with production duo FKi, and went in saying, "let's do some different s***." And that is exactly what he did, on Forever, and the entirety of the EP. All the tracks on Makonnen 2 feature hooks that beg to be sung along. That's the great thing about Makonnen tracks: his imperfect singing allows for anyone to join in. On DJ Mustard produced "Second Chance", one of the highlight tracks, Makonnen sings, "I liked you girl, and I still do/I wish I had a second chance, at loving you", a line anyone can relate to while singing along.

At times, however, Makonnen pushes the limit of his awkward charm. "On Flippin All Night", Makonnen repeats "Flippin all night, boy I be flippin all night" and other variations of it as the chorus. The verse is monotonous and the production is forgettable. Unlike this one, Makonnen's best tracks actually feature minimal rapping and more of a pop-R&B style. Tearjerker "Being Alone With You" is the best song on Makonnen 2. He sings about balancing the grind with his love life over a slow, trappy beat.

iLoveMakonnen's ambitious style is very interesting to see develop. Even though I Love Makonnen 2 is not as cohesive or sonically successful as its predecessor, his change to a more R&B style is a good sign for the future. Whether you like it or not, Makonnen is undeniably a pioneer of a sound that is attracting the attention of many new artists in the hip-hop industry.