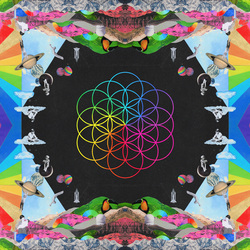 A Head Full of Dreams - Coldplay

Rating: 5/10

Reviewd by Julia Rytel, New Music Department


A British rock band formed in 1996, Coldplay achieved fame and success after their release of "Yellow" in 2000. The band has been an active supporter of various social and political causes, and tend to incorporate this intention of awareness into their music. After a disappointing release of 2014's Ghost Stories, Coldplay has once again came out with a new album: A Head Full of Dreams.


The album hints at more experimentation in Coldplay's sound, but is once again brought back onto predictable paths.The group has lost the ability to excite their fanbase. Nearly every song is about transcendence and ascendence, with an experience that expands the mind through subtle metaphors.


As the hook, "A Head Full of Dreams" is one of the better pieces on the album. It fades in with distant bells, a dance pulse, and a drum set that involves a short guitar melody. The unusual arrangement sets the song apart from the other monotonous melodies. Following "A Head Full of Dreams", the first song from the album to reach the top of the music charts is "Adventure of a Lifetime" which interlocks elements to make the song feel sturdy even though it is being turned into a singalong.


The problem with a majority of the songs is that it is so hard to distinguish the chorus from the rest of the song, and therefore the chorus does not deliver the effect that it should. Coldplay has essentially delivered an album about being on top all the time, which might explains why it doesn't have any distinguishable heights.


Coldplay's sound resonates with an elegant, melodic, spacey, and quite dramatic feel. Prior to fame, the group's hooks were sharpened and their willingness to evolve their sound gave them a reputable staying power. However, Coldplay needs to rethink their next move if they want to climb the commercial success charts and not disappoint.