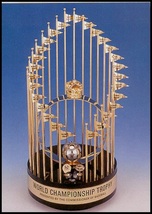 By Jonah Goodman, Senior Sports Analyst
As of Friday we now know the two teams that will be representing each of the two leagues in this year's Fall Classic. For the American League it will be the Kansas City Royals. It's not much of a surprise for many that we see the Royals in the World Series for the second year in a row, as they seem hungrier than any other team after last years disappointing Game 7 loss to the San Francisco Giants in the World Series. They showed dominance in the regular season with an American League best 95-67 record. The Royals will seek to find their second World Series title in team history. And for the National League it will be the New York Mets, a team everyone thought would have been a month into offseason golf by now. It was almost a completely opposite season for the Mets when compared to the Royals in 2014. The Mets missed the playoffs with a second place finish in the NL East and a 79-83 record. With their powerful bats and dominating young arms the Mets will seek to win their first World Series since 1986.
World Series History
Royals:
1980: Lost to Philadelphia Phillies (4-2)
1985: Won against St. Louis Cardinals (4-3)
2014: Lost to San Francisco Giants (4-3)
Mets:
1969: Won against Baltimore Orioles (4-1)
1973: Lost to Oakland A's (4-3)
1986: Won against Boston Red Sox (4-3)
2000: Lost to New York Yankees (4-1)How They Got Here:Royals:
95-67 1st in AL Central
ALDS: 3-2 Over Houston Astros
ALCS: 4-2 Over Toronto Blue Jays
Mets:
90-72 1st in NL East
NLDS: 3-2 Over Los Angeles Dodgers
NLCS: 4-0 Over Chicago Cubs
Strengths:
Royals:
1. Bullpen
Wade Davis has been the man for the Royals with 6.2 IP, 3 SV, 0 ER, 10 SO, 0.90 WHIP this postseason.


Other guys such as, Kelvin Herrera, Luke Hochevar, and Ryan Madson, make this bullpen one of the scariest things about this team.


2. Hitting
From the top to the bottom of the batting order the Royals have no weak spots in their lineup.


One of the biggest strengths about the Royals hitters is that they don't have a certain guy that they rely on the come through for them. Every batter in their lineup has the potential to be the team's best hitter on any given day.


3. Hunger
With their loss in last season's Fall Classic, they are determined to come out of this year's World Series as champions.


Mets:
1. Great Starting Pitching
With reigning NL Rookie of the Year, Jacob deGrom, leading their staff as well as guys like Noah Syndergaard, Matt Harvey, and Steven Matz, the Mets have great stuff coming to the mound each night.


Projected rotation for World Series: Harvey, deGrom, Syndergaard, Matz.


2. Scoring Early
Even against pitchers like Jake Arrieta, Clayton Kershaw, and Zack Greinke the Mets have done a great job of getting on the scoreboard early.


Have outscored opponents 18-6 in the first two innings of games


3. Bullpen
Bullpen has great depth with a mix of standard relievers and starting pitchers made into relievers.


Closer Jeurys Familia has been nearly flawless (Postseason stats: 9.2 IP, 5 SV, 0 ER, 6 SO, 0.41 WHIP)


Biggest Weakness:
Royals: Underwhelming Starting Pitching
For me to say that the Royals have bad starting pitching would be an outright lie, but their pitching staff doesn't exactly blow me away.


Starting pitcher (Cueto, Volquez, Ventura, Medlen, and Young) have an average combined ERA of 4.81.


Mets: Late Game Hitting
We've seen fantastic things from the Mets hitters so far this postseason, but when it comes to later innings they seem to not perform very well


In their 9 games played this postseason the Mets have only scored 10 total runs in the 7th, 8th, and 9th innings of their games. 10 doesn't seem too little, but they seem to go into a prevent offense when they are ahead later in games.

How They Matchup:
Starting Pitching:
As I stated earlier I believe the Royals starting pitchers don't impress me very much, which can be a big problem for them as the Mets have done well against Cy Young contenders and have completely destroyed middle of the pact pitchers. The Mets pitching staff have been able to come out victorious against some of the best pitchers in the National League. This being said I believe the Mets have the clear upper hand in starting pitching. Advantage Mets.
Relief Pitching:Both of these teams have phenomenal arms out of their bullpen. The Royals top guy being Wade Davis and the Mets have Jeurys Familia leading the relievers. Both these teams have made it this far mostly due to their bullpens and I think that they are very even in this aspect of the game. Tie.
Hitting:Daniel Murphy is a name that will forever make Cubs fans cringe after the performance he had in the NLCS. Murphy isn't the only big hitter the Mets have either with Curtis Granderson doing a great job as the leadoff hitter for the Mets, and Yoenis Cespedes bringing the boom for the Mets. But the Royals don't care too much about those names when they have guys like Alcides Escobar, Salvador Perez, Ben Zobrist, Lorenzo Cain, and Mike Moustakas. The Mets have not yet seen a batting order as lethal as the Royals, and that Royals lineup just barely out shines that of the Mets. Advantage Royals.
Series Prediction:There is no doubt about it that both these teams have great talent in all facets of the game. In my opinion though the Royals have the upper hand due to home-field advantage, their hitting, and the hunger that they have to win this year's Fall Classic. Royals in 6.